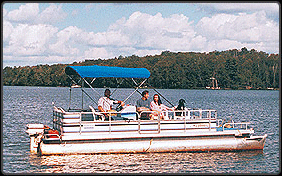 WHAT MAKES A WONDERFUL VACATION?
* An individual really clean vacation home close to the water with your own waterfront.
* A private natural sandy beach and a private pier for your exclusive use.
* A 25 foot pontoon boat delivered to your pier with free personalized instruction for 2 ADULTS.
* 28 connected lakes on which to use the boat – fishing, dining, golfing or shopping.
* Being well serviced by request only and having privacy.
* Next to no mosquitoes most of the summer and being able to enjoy the out of doors.
* A place of natural beauty with the lake at your front door, your own private pier and a boat right in view- woods of pine, white birch, maple and oak.
    THE NATURAL NORTH WOODS!
                       COME AND ENJOY IT AT THE GYPSY VILLA!
RENT A PONTOON FLOAT BOAT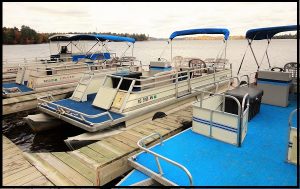 Pontoon Boats are Marvelous!
Sightseeing, lounge, fish, swim and sunbathe. They have canopies and sundecks, flexible furniture. FOR ALL AGES take a trip around the island – take one to Eagle River and shop – go dining by water, take a sunset cruise! The kids do not have to sit still. Grandma and Grandpa can get up and stretch – it is a floating patio. Have the advantage of a houseboat, yet have your "home" on dry land with your private pier and beach! Mom will love this boat! Starts like a car – with a key – and has lights, chairs and flexible seating aboard. Life jackets are also included. Free personalized instruction for two ADULTS with each rental.
SERVICE RENTALS
* Pontoon Boats                        Please see our rate 
* Sail Boats                                  sheet for current prices!
* Fishing Boats
* Paddle Boats
* Canoes
* Bicycles
* Ski tubes and other marine equipment
* Babysitting available
* Cribs and high chairs – free if reserved in advance
* Outboard motors
* Gasoline available on premises
You're always welcome to bring your own rig or outboard!
You'll have your own private dock!
BRINGING YOUR OWN RIG?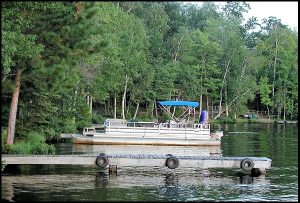 DOCK YOUR BOAT AT YOUR FRONT DOOR!
You will enjoy your private pier! Your boat will be launched on our private boat launch which is right on our premises and is the best on the lake. We will also provide a space for the parking of your boat trailer.
SPRING AND FALL ARE BEAUTIFUL TIMES OF THE YEAR TO VACATION!
At this time our rates are lower and present a REAL BARGAIN for the vacationer!
During this period you can also rent by the day with check-in-time and check-out times being your choice of time of day.
        APPROXIMATE MILEAGE TO A1 GYPSY VILLA
 Beloit (267 miles)                      La Crosse (229 miles)
Chippewa Falls (58 miles)         Madison (221 miles)
Chicago (327 miles)                  Milwaukee (241 miles)
Duluth (83 miles)                       Oshkosh (161 miles)
Fond Du Lac (180 miles)           St. Paul (239 miles)
Green Bay (136 miles)              Superior (184 miles)
Kenosha (275 miles)                  Wausau (82 miles)
BOAT RENTALS
If your villa does not come with a Pontoon boat, you may rent one for the week or day!
SAIL BOATS 
$95 per week, $35 per day
CANOE RENTAL
$22 per day, $60 per week
OUTBOARD MOTOR RENTAL
$149 per week
($10 discount if reserved in advance)
$56 for 1 day
$76 for 2 days
$96 for 3 days
PONTOON BOATS RENTALS 
24, 28 or 29 Ft
$795 per week
$179 per 24hr day
$149 per 8hr day
$97 for 4hr day
Ladder for pontoon $25 per week
ROW BOATS 
$30 per day
$70 per week
Add a motor!
Life Jackets Free w/rental boats.
Free Driver Instruction for 2 included with each rental.
(Anyone driving our boats must have instructions.)
Additional Instructions for over 2 persons- $30 per person.This is for your protection.
If you bring your own boat, you will enjoy your private dock! Launching of your boat is free (right on premises) – parking of your trailer and dock space for your boat on both shores is $35 for the entire week. Any boat brought in must pay the $35 dock fee for the week. You are welcome to bring your own outboard. We allow up to 8 HP on our standard rowboats. If your motor is larger, we will furnish a larger boat to suit your motor for a $15 one time service charge. (Please reserve in advance.)
Please be aware that the State of Wisconsin requires you to remove all plant material from boat, motor and trailer. Be certain that livewell, transom well and bilge are drained. Jet drives should blow out excess water from the drive system before launching. Wisconsin laws prohibit launching a boat or placing a trailer or boating equipment in navigable waters with aquatic plants or zebra mussels attached. ($180 fine for first offense- $250 for second offense)