WELCOME TO A1 GYPSY VILLA RESORT
What a Vacation
Take along a picnic lunch, lounge under the large canopy or on the sundeck of the pontoon boat. Go golfing or dining by boat at any one of the supper clubs or dining establishments along the waterway, which all have a "come as you are" policy. Then cruise home to your Island Villa where you have true privacy under the pines and birches.
Your Vacation Villa is a home with full bath, tub & shower (some with two baths) fully equipped kitchen, living room, 1-4 bedrooms, fireplace and screen porch. Color TV/VCR furnished. All units have Microwave ovens besides the regular range.
For those who like fishing, sail boating, skiing, canoeing, tennis, bicycling, or playing shuffleboard, etc. – these and more are available right on the premises. We have a centrally located recreation room with a large play center for children.
Summer season includes activities both on the resort and in the immediate area. Consultation with a fishing guide is free. Maps of the hiking trails and the lakes are furnished! Free scheduled trips to and from Island. Many an evening is spent sitting around the campfire and gazing at the star laden sky above.
Horseback riding is nearby. There are 15 golf courses nearby and one you can reach by boat! Even though many activities are available, privacy for you is predominate! This is a very affordable vacation for a family – yet unusual and memorable!
To the land lover the Gypsy Villa offers attractive mainland vacation homes on the west and southwest shores, (some as close as 15 feet from the water's edge)  also with private piers. There is special docking on the island for our Mainland guests so they can go to the island and join in all the activities offered.
LOOKING FOR A GREAT VACATION ON THE LAKE WITH PRIVACY? THIS IS IT!
P.S. Though you will feel like you are miles from nowhere – two progressive towns and excellent shopping is just 5 miles away!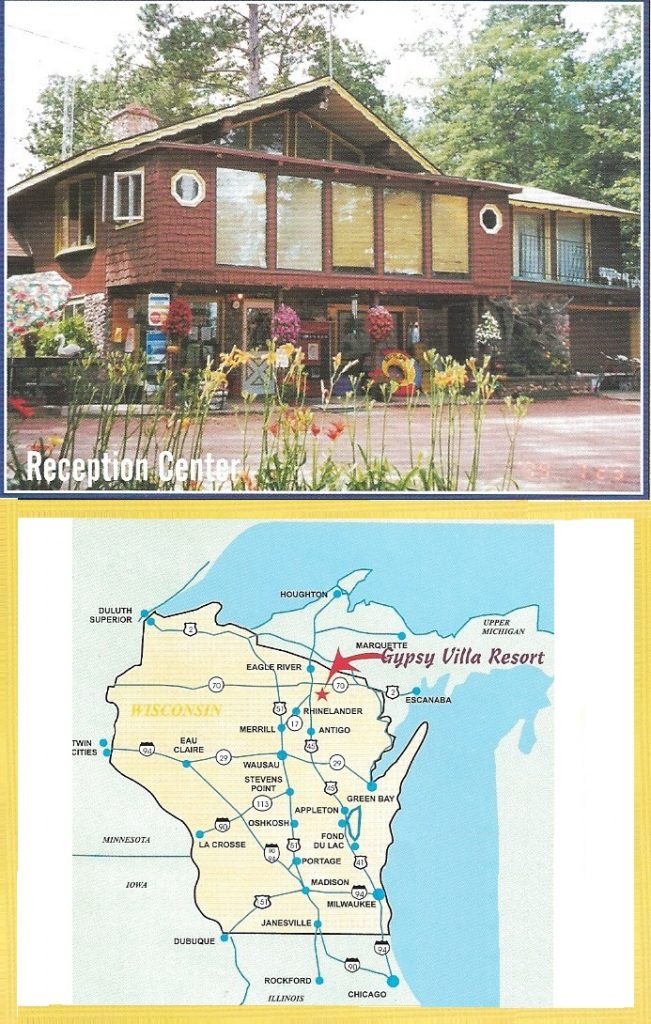 Gypsy Villa Resort
938 Gypsy Villa LN. Eagle River, WI 54521
We would like to welcome you to a Resort that is different, unusual, unique, in fact it is "An Adventure!" We are located on a chain of 28 connected, navigable lakes between the town of Three Lakes and the city of Eagle River. The main part of the resort is located on Cranberry Island (100 acres). There are 12,000 acres of water in the gateway to the Nicolet National Forest, known for its scenic beauty and having an elevation of almost 2000 feet with excellent relief for asthma and hay fever sufferers.

The lakefront vacation island villas each have approximately 200 feet of their own water front each with a private pier. You can swim in front of each Villa. We also have a sandy beach with a slide, raft, teeter-totter, swings etc. On the following pages you will find all amenities listed that are furnished with each home. Many of the villas also come with a pontoon float boat with an electrics start motor. These boats are like floating patios whether you are fishing and cruising the 28 lakes or parked at your pier.
GOOD ROADS – EASY TO FIND:
Take Hwy. 45 to Evergreen or Meta Lake Road (5 miles North of Three Lakes); East turn onto Evergreen or Meta Lake Road and follow our signs. (About 2 miles)